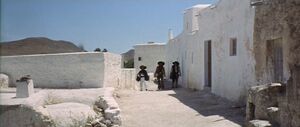 Agua Caliente is a small, reclusive town on the Mexican border featured in For a Few Dollars More. After the El Paso bank robbery, El Indio and his gang, along with Monco, flee here. The final shootout that results in the elimination of El Indio and his gang occurs here.
The location where Agua Caliente was filmed was in the small town of Albaricoques, in the Almería Desert in south-eastern Spain.
Ad blocker interference detected!
Wikia is a free-to-use site that makes money from advertising. We have a modified experience for viewers using ad blockers

Wikia is not accessible if you've made further modifications. Remove the custom ad blocker rule(s) and the page will load as expected.